Nostalgia Radio volunteers through the years
---
Dedicated to the memory of those volunteers who gave of their time and talents to help build Nostalgia Radio - not only CJNU, but our spiritual predecessors CKVN, CHNR and CJML.
---
Laura Bangs was born in Thunder Bay, ON. She moved to Winnipeg in 1964 where she was employed by the Federal Government - Works and Transport Canada for 22 years before retiring in 1988. Laura joined CJNU as a phone volunteer shortly after the station went on the air in 2006.
James (Jim) Lyle Bowes grew up in Winnipeg. As a boy, Jim was in Cadets where he was a marching band drummer. He served a in the Royal Canadian Navy as an Honourable Able Seaman on the HMCS Bonaventure from 1963-1966 after which he worked in the printing industry and opened his own business, Photo Litho Printing. Jim was in and around music all his life, playing drums in local bands, playing at local pubs, for weddings and a stint at Paterson's Ranch House. He was a DJ for Garry Robertson Music Services in the 70's, then for Crystal Sound. His dream was to become a broadcaster which finally came true when he joined CJNU as an announcer and operator. In 2013, Jim and his wife retired to Raymond, AB but moved back to Winnipeg in 2018.
Thorey Gudrun Blow was born in Wynyard, Sk. but moved to Winnipeg following high school where she would spend the rest of her life. She worked at the Canadian Bank of Commerce then at Benjamin Bros. Thorey loved to sing. She sang in her church choir and also was active with the Sweet Adelines female singing group for 37 years. Thorey spent many years at CKVN, CHNR and finally CJNU as a phone volunteer. Thorey received the CJNU Volunteer award in 2018.
Bob (Robert) Burns started his entertainment career in the early 50's as house MC and sometimes vocalist at Winnipeg's popular night spot, Rancho Don Carlos. He started in radio in Timmins, ON in 1955. He returned to Winnipeg in 1960 as a staff announcer with the new TV station CJAY. He also started hosting "Teen Dance Party" which continued for 14 years! He produced "Shakin' All Over" for Chad Allen and then became producer/manager of the "Guess Who" in their early years, at the very beginning of Winnipeg's emergence into the international popular music scene. After Teen Dance Party, Bob produced and managed various broadcasting projects with Moffat Broadcasting (CKY Radio, CJAY(then CKY)-TV, Videon). Bob resurrected many of his Dance Party favourites on "specials" for CKVN/CHNR and then on a weekly afternoon show on CJNU.
Jim Coghill was born Aug 27 1935 and raised in the North end of Winnipeg. He attended Faraday and Isaac Newton schools. He started working at CN Telegraphs. But in the 1950's he began his radio career at CFOB in Fort Frances. In the 1960's he joined CKRC in Winnipeg, then CKY where his smooth sound made him their "Man About Midnight". In the 1970's Jim moved to CJOB where he cared listeners with "The Night Owl", "Midnight Blue" and "All That Jazz". Jim was involved with the Winnipeg Press Club and Beer and Skits. He was also involved with the Eric and Jack Wells Foundation, Children's Aid, Schmockey Night, Age and Opportunity, Newsmen's Bonspiels and many other baseball and curling leagues. His last 8 years was spent spinning tunes on "Cog's Corner" at CHNR.
David Bruce Down was born in Norwood. He worked at MTS, then at TruServ Canada, a large national wholesale distributor from 1968 until he retired in 2003. Bruce served on the Board of Directors at Goodwill Industries for many years. Cliff Gardner first persuaded Bruce to go "on air" with CKVN. In 2006 he became involved with CJNU as one of the original founding members. He served on the Board of Directors at CJNU, announced and used his considerable woodworking skills to the benefit of the station. Bruce received the Garry Robertson Builder Award in 2015 to recognize his outstanding contribution to the station.
Nancy Jane Drake, was born in Winnipeg. At the age of 19, Nancy moved to London in the UK where she married. She moved back to Canada and settled in Sydney, NS where she performed in musical theatre and had a weekly folk radio show on CBC. She moved back to Winnipeg in 1976 and began working in the Winnipeg Theatre scene, performing for the Royal Manitoba Theatre Centre, Prairie Theatre Exchange, as well as in 23 musicals. She also had well over 20 film and television credits to her name. This doesn't include her work as a director and dialect coach or as a member of several artistic boards. Nancy taught both the love and technique of theatre acting to students of all ages. Nancy was an announcer with CJNU for several years.
Bill (William) George Enefer graduated from Daniel McIntyre Collegiate in Winnipeg he began his career path with Shell Oil in their credit department. He moved to Creditel in both sales and consultation with members. He was very active withes credit association and was awarded their highest award. In 1984 he began his own credit consulting business. Bill was very active with the Jaycees where he served as Unit President as well as Manitoba President and received the Jaycees highest award. In 2006 he was elected President of the JCI Senate. Bill loved and supported radio station CJNU and thanks to his love for music he was constantly encouraging others to support the station. Bill became a member of CJNU and volunteered at the station in the capacity of a sales representative.
Bill (William) Patrick Gair passed away in October, 2016 at the age of 66 years. Bill worked as an HR Consultant with the province of Manitoba. In 2013 he became a member of CJNU and joined the staff as a phone volunteer. A lasting memory of Bill is the embossed copper plaque of an early CJNU motto: "The "Little Station that Could" that he framed and presented to the station.
Cliff Gardner
1928 - 2003
Cliff (George Clifford) Gardner was born in Brandon. He spent 60 years as a radio broadcaster, starting with CKX in Brandon and moving to Winnipeg in 1949 to host the morning shows at CJOB and in 1956 at CKRC, He returned to CJOB as Program Director in 1960, serving for 9 years before starting a freelance career. He was also an actor of considerable accomplishment; leading roles at MTC and a legendary Tevye in "Fiddler on the Roof" at Rainbow Stage. He was one of the driving forces behind the start of the first Nostalgia station CKVN in the mid 90's (subsequently CHNR). Although he died several years prior to CJNU's start in 2006, his influence is still felt today.
Ed (Edward Allan) Henderson graduated from Ryerson Institute of Technology in 1958 and worked on the Avro Arrow until its cancellation. From then until his retirement in 1997, he worked on the installation, service and maintenance of large scale computers. He received his amateur radio licence at the age of 17 and that became a lifelong hobby. His love of music and electronic skills led to a 20 year involvement in nostalgia radio as a producer, technician and announcer with CKVN/CHNR, CJML and CJNU. Ed received the Garry Robertson Builder Award in 2012.
Frank Joseph Liebzeit was born in Winnipeg. He attended St. Paul's High School and the University of Winnipeg. He was very involved with Toastmasters District 64 and remained active in the U of W alumni association. He was also a great supporter and participant in the co-operative movement and in social service organizations, particularly in Winnipeg's West End. Frank served on the Board of Directors at CJNU from the beginning. Through his persistence, Frank helped secure favourable arrangements (banking, tower location, insurance, etc.) that still serve the station well today.
---
Frank Liebzeit
1942 - 2014
---
Gren (Grenville) Marsh was born in Toronto, ON. He began his radio career in Bellville, ON. From there he moved to Saskatoon, then Regina and finally in 1958 to Winnipeg where he worked at CBC until he retired in the mid 80's. He was the quintessential radio Golden Age announcer. He could introduce a string quartet and a pop band or read the news with equal aplomb. Gren lent his talents to the first nostalgia station CKVN/CHNR (anyone remember "Tango Time" on Friday afternoons?). At CJNU he was best known as the Sunday morning host and with the participation of his family, Chris, John and Cindy he was able to continue until shortly before he died.
Lee Major (Ivan Gordon LeMesurier) was born in Medicine Hat AB. He graduated from Medicine Hat high school in 1957. In that year he began his career as a broadcaster in Yellowknife. after which he spent 2 years as a station manager in Ft. Churchill in the early 60's. He joined CBC radio in Winnipeg on Nov. 22 1963, the day John Kennedy was shot. Through his 35 years with CBC, Lee Hosted numerous radio and television programs such as Major Progression, Red River Country, and Music to Listen to Jazz By - a show originally hosted by fellow CJNU alumnus, Gren Marsh. Lee used to joke with Gren that he 'borrowed' the title! After his "retirement", Lee spent 4 years with co-host Don Percy on the TV cooking show "2 Grumpy Guys in the Kitchen". In recent years his well-known voice has been heard on several Winnipeg radio stations - CKVN, CJAE, CHNR, COOL FM, CJML and CJNU.
Lee frequently appeared as an extra in movie and television productions. Lee was one of the original group that started CJNU, serving on the Board of Directors the first year and in 2008 made a significant presentation to the CRTC that awarded CJNU the spot at 107.9 FM. Lee did a morning spot on CJNU along with Harry Taylor. In 2014, Lee moved west and settled in Campbell River in his final years.
Don (Donald) Gordon Milne, musician, entertainer, teacher, sometimes all three at once! Don, Garry Robertson, Bill Stewart, Harry Taylor and bruce Down, all CJNU "originals", were all born in the summer of 1940. And if further proof is needed that the degree of separation can be very small in our Winnipeg community, Don was in the same Grades 3 and 4 classes with Bill Stewart at greenway School and prior to their marriages, Don's father dated Garry's mother. While teaching at St. James and John Taylor Collegiates, Don always kept actively musically as a top rate professional guitar player with a fine tenor voice. He appeared on TV's "Hymn Sing", at the Hollow Mug and with the Neil Harris Singers. For a while he owned a music store. He would perform solo or with a small group of other prominent musicians (at the Fort Garry Palm Room and at McNally Robinson in more recent times). Occasionally he'd take leave from all these things to be a cruise entertainer. And if that wasn't enough, he became a radio host on CKVN, CHNR and then CJNU - and almost always played a tune by his favourite vocal group, The Ink Spots. Don and his wife Marlene moved in 2021 to Ottawa to be together with both children and grandchildren. A year later, at age 82, after cocktail hour and dinner with his family, he just dozed off in his recliner and didn't awaken.
---
Keith Milligan was a member of Nostalgia Broadcasting Cooperative, and served as a phone volunteer with CJNU.
---
Glen Richard Joseph Miller, successfully combined his two min vocations - aviation and broadcasting. As a small craft pilot, he worked for Winnipeg based Perimeter and other regional airlines but his log book recorded an endless variety of flights. And then there was radio - one colleague said he had arguably the most distinctive voice on the Manitoba airwaves. At one time he was the voice artist for the Manitoba Planetariums productions. At CJOB Glen handled every announcing duty imaginable. And when a newsman or the traffic reporter needed a bird's eye view, he could pilot them to the heart of the action. Glen helped establish CJNU's predecessor CKVN. At CJNU Glen wrote and voiced and recorded announcements at his home studio and helped immeasurably as a mentor and contributor to the "On Air" handbook to guide operators and announcers.
Roy Thomas Maguire was a lifelong broadcast engineer and enthusiast who put many stations on the air and helped keep them on the air over a 70 year career. In his final decade, he was still playing baseball and riding his Harley. In Winnipeg he worked for CKRC, then CBC. Roy became CJNU's Chief engineer at its inception in 2006 and could be seen at over 80 years of age climbing around the tower structure at 55 Nassau for maintenance and repairs. Roy was active in Amateur Radio (short wave) and his contacts included at one point the King of Jordan, a fellow "ham" operator. He received the Garry Robertson Builder award in 2014 for his many contributions towards the building of CJNU.
---
---
John Murphy was born and raised in Montreal. He began his fifty year career in Oshawa in 1954 and has been renowned as one of Canada's most popular and influential country radio DJs. His ear for a "hit" record was often the catalyst to breaking the latest release at a national level for a Canadian country music artist. John was named National Country Music DJ of the year in 1976 and took home the MACA Broadcaster of the Year Award in 1989, 1990 and 1991. John was inducted into the Canadian Country Music Association Hall of Fame in 2009. He worked as a writer for the Tommy Hunter Show in 1978 and spent 8 years with the Winnipeg Free Press as a country music columnist in the late 80's and early 90's. Johnny Murphy hosted evenings at CKVN and CHNR from the mid 90s.
Ernie (Ernest Charles) Mutimer was born in Winnipeg, served in WWII as an RCAF Navigator, returning to Winnipeg and St. John's College before going on to the Lorne Greene Radio Academy in Toronto. His first radio position was at CJRL Kenora, but Winnipeg beckoned with a job as a producer for CBC's new television station. In the mid 60's he spent two years in Malaya helping establish their tv broadcasting service followed by three years in Trinidad and Tobago with UNESCO Communications. Ernie was one of the group of retired media people who set up CKVN in 1995 to help celebrate the 50th anniversary of the end of the Second World War. For the next decade, he had a regular stint on the CKVN/CHNR playing his favourite music of the 1930s and 1940s.
---
Ernie Mutimer
1924 - 2014
---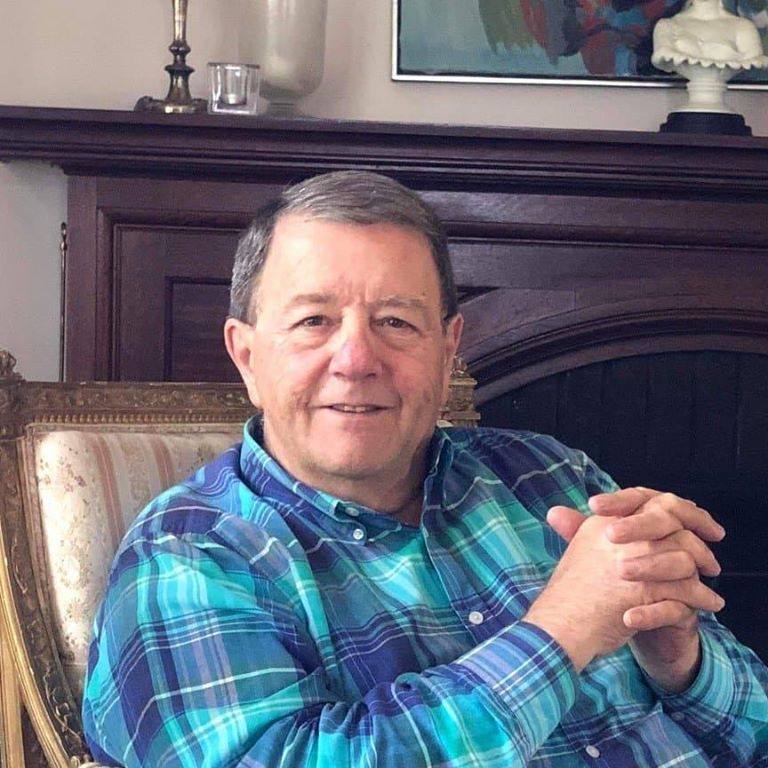 James (Jim) Pappas was born in Winnipeg and graduated from Kelvin High School in 1960. Jim served as co-chair for both the 75th and 100th reunions of Kelvin. Following graduation from high school, Jim attended United College. Jim spent more than 40 years in the Fashion Industry and served as manager at Kelekis, a family restaurant. He served on the boards of RMTS, Rainbow Stage and Dry Cold Products. In 2013 Jim received Winnipeg's North End B.I.Z. Award for his involvement in promoting local businesses.
Jim had a deep appreciation of music and in particular music from Broadway and the movies. This love of music led him to become part of the CJNU family. His involvement at the radio station was more than just an announcer on his Monday afternoon show :A Class Act". He served on the Board of Directors, was chair of the Promotions Committee, served as co-chair of the annual Pledge Drive, worked in sales and was instrumental in obtaining many gifts and prizes for giveaways for the station. Jim was awarded the Garry Robertson Builder award at the 2021 annual general meeting for his outstanding contributions.
Murray Lyall Parker was raised in St. Vital on Hastings Blvd. His broadcast career began at CJOB doing work behind the scenes, not on air. It is said he got the job after stopping at the station to ask for directions. He then went to CKRC in the late 1950's where he hosted Parker's Penthouse. The majority of his broadcasting career was with CBC where he was a weather reporter on CBC Winnipeg's 24 hours, News at Noon, host of the 1976 Olympics in Montreal, co-host of the Children's Miracle Telethon, quizmaster for Trivia and Reach for the Top. He was a popular MC for local galas and a polished performer in the Winnipeg Press Club's annual Beer and Skits. He interviewed sports, entertainment, business and political figures from around the world. Murray also hosted Parker's Penthouse on stations, CJML, CHNR and CKVN, the predecessors of CJNU.
Murray Parker
1936 - 2023
Ted Pawlyk was born in 1936. He had a love for music and radio and began his radio career with CFRY in Portage la Prairie. From there he went to CKTB in St. Catherines, ON, WNFN Niagara Falls, New, York, WGR Buffalo and CHOW In Welland. He left radio and moved to Winnipeg to pursue a career in sales but returned to his true passion of broadcasting with CKVN, CHNR, CJML and finally with CJNU in Winnipeg
Ron (Ronald Lynn) Rochester worked at CKSL in London, ON as a part time operator and production manager, at CHFI in Toronto as an operator, at TCN TV9 in Sydney, Australia as a switcher, director and as a Video Tape editor. He also worked at CJOE in London, ON as a production Manager, at CKCO TV in Kitchener as a Master Control Switcher and finally at CKVN, and CHNR as a producer. His connection with prominent Ontario broadcaster Lyman Potts, founder of the Canadian Talent Library, resulted in this huge musical resource being available to CJNU. Ron helped put CJNU on the air, and then handled the station's computer programming as well as being an operator/producer until he moved to Kingston shortly before he passed away.
---
Ron Rochester
1941 - 2012
Garry Robertson
1940 - 2012
Garry Robertson had the determination which inspired a group of radio professionals and enthusiasts to establish CJNU in 2006. By the 1960's, Garry had become a popular radio host at CKRC then CJOB. He went on to start "Garry Robertson Music Services", supplying recorded dance music and other services to all kinds of social events – eventually across Canada. Garry was active with all the early iterations of Nostalgia Radio, CKVN/CHNR then CJML. Even when they stopped broadcasting, he maintained his unwavering belief in a radio service to serve older listeners he considered radio's most loyal audience. He inspired many others with his vision and CJNU remains to this day as a testament to Garry's enthusiasm and perseverance.
(Allan) Wayne Rogers was born and raised in Winnipeg and attended Elmwood High School. After graduation, Wayne followed several career paths including being a counsellor at Stony Mountain Institution, being part of the early years of Main Street project and working for the family flower business. Ultimately, however, Wayne's path brought him to his destiny - Variety, the Children's Charity where he started as a volunteer before becoming its Executive Director until he retired in 2014. During his retirement years, he helped other not-for-profit organizations including serving as Executive Director of Friends of Elmwood Cemetery. Wayne served on the Board of Directors for the Reh-Fit Foundation. A lifelong music fan - Elvis in particular - Wayne served on the Board of Directors for CJNU from 2016 until his unexpected passing. Wayne led several major CJNU events, including the station's participation in the annual Teddy Bears Picnic and helped coordinate the annual CJNU Pledge Drive.
---
Dick (Richard) Sargent was born in Selkirk and spent his early years in the Petersfield area. Dick worked as an electrician for nearly 20 years then went into the field of real estate until his retirement. Dick volunteered his time at Bleak House and at CJNU Nostalgia radio as a phone volunteer and operator/producer. When Dick died suddenly, just a year after the start of CKVN, friends and work colleagues made contributions in his memory that financed CJNU's first recording studio, a memorial that is still preserved at our current studios.
Germaine Stevens was born near Qu'Appelle Valley in Saskatchewan, one of nine children. She moved to Winnipeg and worked for AEI Communications where she met her husband Earl. Germaine liked country dancing and bowling. Germaine joined the volunteer staff of CJNU in 2007, becoming the first Volunteer Coordinator - where she both recruited new volunteers and scheduled their shifts.
Germaine Stevens
1939 - 2022
---
Harry "Corky" Taylor started in radio as a production operator at CKRC in 1960 after entertaining in the house bands on CKRC, CKY and CJOB as a steel guitar player, and playing and travelling in country and western bands for a few years. After 14 yrs at CKRC, he moved to CKY in charge of production for 5 yrs. In 1980 he started as a production engineer at Century 21 Studios. Over his recodring career Harry worked with musicians such as Ron Paley, Bob McMullin and Neil Harris. He was also the first to record Neil Young and was involved in a 10 day recording session with Harry Belafonte. After his retirement from radio and the recording industry he was drawn back when CKVN went on air and had been with CJNU as an announcer and operator from its beginnings. Harry was awarded the Garry Robertson Builder award in 2014.
Bob (Robert Lawrence) Washington was born in Wadena, SK. His love of broadcasting led him to Moose Jaw, Winnipeg, Montreal, and back to Winnipeg working on both CKRC and CJOB. He and Tom Ashmore will be remembered for Wash and Ash reading the funnies on CKRC Sunday mornings. Bob also became known worldwide as the voice of K-Tel when he began doing spots for TV. Bob volunteered wherever there was a need whether it be telethons, the Red River Ex, Pan Am games, Meals on Wheels, etc. Bob also did broadcasts on radio station CKVN in Winnipeg before moving to BC.
---
Bob Washington
1934 - 2016
---
Donald Robert (Don) Willcox was born in Regina but always considered Bulyea to be his home town. After finishing high school, Don took a job in 1951 with the Hudson's Bay Company as a junior clerk. His career with HBC and later know as the Northwest Company lasted 47 years. The job took him to places like Winnipeg, Montreal and Edmonton. His final move was back to Winnipeg in 1984 where he and his wife, Olive, raised their family. Don spent much of his time volunteering for a variety of organizations. He was with Scouts Canada for 30 years, Fort Whyte Centre for over 25 years, the Winnipeg Police Service, the Edmonton Classical Guitar Society and with the Edmonton and Winnipeg Jazz Societies. Don was also a long time volunteer with CJNU as an operator. Many listeners enjoyed the Don (Don Milne) and Don (Don Willcox) show on Monday afternoons.
Trevor (Dan) Wood was born Apr 24 1930 in Winnipeg. As a child the family lived a nomadic life, moving from one location to another across Western Canada. Dan had a lifelong interest in railways, train travel and collecting railway memorabilia. His earliest involvement in broadcasting was in Winnipeg as a member of Eaton's Good Deed Radio Club, singing and playing guitar. Many years later he became the producer of the Good Deeds Club. Dan became a radio announcer and producer for many private radio stations until finally settling at CBC Winnipeg. He was a three time OHIO award winner for his work with radio programs for the Manitoba School broadcasts in the 1970's. After his retirement in 1985 he became involved with the Golden Age of Radio in Winnipeg. He enjoyed sharing selections from his huge collection of vintage records from the earliest days of broadcasting. He also was well known for his presentation of late night radio drams on radio station CKVN.
---
Kenneth (Ken) Evans Wray worked as a technician at CBC from 1960 to 1994. He was a general sound technician in studio and master control until 1968, then worked on Information Radio mainly on news and sports from its inception in 1968 to 1994. Ken started in radio at a time, pre-computer, when a technical operator/engineer was a highly valued and essential professional in any major broadcasting operation. After retiring from CBC, Ken worked at Piston Ring. From 2000, Ken was a technical producer with CKVN, CHNR and CJNU. Ken was definitely the winner of CJNU's "best dressed" award.
---
Jack (John Hampton) Wells began his career in 1936. He became known on air as Cactus Jack. During his career he broadcast on all major Winnipeg radio stations. He became the first television voice of Western Conference Football for the CFL on CBC and did daily sports reports on both CBWT and CKY-TV. He was inducted into the Canadian Football Hall of Fame. Wells was also closely associated with the national curling scene. As he approached his '90's, Jack maintained his enthusiasm for radio and co-hosted a morning show with Cliff Gardner during the early days of CKVN.
---
Broadcast Personalities of Yesteryear
---
CJNU is Winnipeg's home of Nostalgia - and we fondly remember many broadcasters who became household names. Sadly, time has quieted many of those voices. Here are some radio personalities who may not have been a direct part of the story of Nostalgia Radio, but were colleagues and mentors to many who were.
---
Red (John Joseph) Alix started his career in radio in Saskatoon, then moved to Winnipeg where he worked at CJOB as the morning man for two stints over 35 years and introduced his trademark program Beefs and Bouquets. Red was an entrepreneur who also operated a prosperous hardware company.
George McCloy was a broadcaster on CJOB for 41 years continuously from 1946 – 1987. He hosted a week day program and the Shut-Ins program on Sunday mornings. The seemingly unflappable McCloy was a professional announcer in every sense of the word taking on any announcing task including his coverage of Winnipeg Blue Bomber games. After retirement, George returned to the air one last time to host a one-off "Shut-Ins Program" on CKVN/CHNR.
---
George McCloy
1922 - 2009
Dudley Paterson
1914 - 2003
---
Dudley Armand Paterson was born in Winnipeg, and joined the Winnipeg Grenadiers during the Second World War. Upon discharge, he began a career in broadcasting at the old Manitoba Telephones CKY radio station at Winnipeg and later as Station Manager of CJGX at Yorkton, Saskatchewan. He then returned to Winnipeg and CJOB where he stayed for the next 44 years. During these years, Dudley became a favourite and trusted voice bringing Winnipeggers the news of the day and the times.